Telephones
The ND4S Audio Telephone (pictured right) produced by Neon has the following features that make it ideal for the local authority and social housing market: –
Lock release button with pictoral "Key" symbol

Anti-Tamper lock facility – if the lock release button is jammed "on" the door will NOT unlock when the telephone is called or answered

High quality earpiece & electret microphone

Privacy button with pictoral crossed out "Bell" symbol – with its Green "On Privacy" l.e.d. indicator

High Precision "Timed Privacy" facility with installer/engineer adjustable time settings (one setting gives "latching" on/off feature)

Red "Door Unlocked" (when flashing) and "Door Left Open" (when lit permanently) l.e.d. with pictoral door open symbol

Extra button that can be configured for 'call divert', 'concierge call' etc

Multiple Handsets can be fitted into the one flat if required (hall, lounge, bedroom etc) with individual privacy selection at each location

Replaceable handset and cord with standard plug/socket fitting

Ring Tone Volume control
The ND2 Audio Handset – all the same features as the ND4 but with a mechanical privacy switch and no door open indicator.

The ND4V Video Telephone has the same features as the ND4 but adds: –
4.2" TFT LCD Colour Video Screen Module

Optional "Preview" facility

Video input can be either twisted-pair OR coax

Amazing price savings on on-going life-time servicing. In this day and age with LCD screens, video is much more reliable than the days of "tubed" monitors. The most likely thing to wear out on a video phone is the handset, cord, buttons etc of the audio side of the unit, NOT the video screen. By fitting Neon ND4V phones the modular nature ensures that if the "audio" handset side needs replacing it can be replaced on its own – why pay out to replace a complete video-phone if its only a faulty lock button or damaged handset cord!!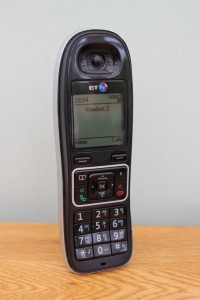 The NDECT1 Telephone Interface enables the Neon system to work via a fixed or cordless (DECT) BT type telephone. If you have a cordless DECT handset door entry calls can be answered from anywhere inside the flat
Powered direct from the Neon door entry system – no local 240V mains supply required
Use the same telephones to make/receive external BT telephone calls AND door entry calls
One key operation to "swap" between BT calls and door entry calls if both received at the same time
Unlock the entrance door to visitors if required by pressing the "1" key whilst talking to the visitor at the main or sub entrance
Guaranteed NO CALL CHARGES
Totally "transparent" to the incoming BT line – in the event of door entry power failure the external line will work as normal
Mix & Match Audio, Video & Telephone Interface options – if required you can fit any combination of the above into one property e.g. A videophone in the hall, an audio only phone in the lounge and (via the NDECT1 Interface) a DECT cordless phone anywhere in the flat.
Compatible Telephones – if you want to save money on a system upgrade (and if you have existing video telephones the savings can be huge!) then the Neon system will work with a large range of audio and video handsets. The best way to find out if a specific handset will work is to call or email us to discuss.
Here is a list of manufacturers (not exhaustive) who make/have made, audio & video handsets that can work with Neon controls: –
Urmet, Comelit, Bitron, Fermax, Entrotec, EIS, ISM, Videx, BPT, Farfisa, Elvox, Acet, BTcino, Golmar, Siedle, STR, Terraneo, LT, Daitem, SAS ….. the list continues to grow!
Of course most manufacturers produce a range of different phones and some phones from the same manufacturer are compatible and some are not – so for full information do please contact us